Welcome to Congregation Sha'arey Israel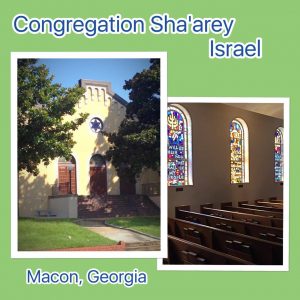 We are an egalitarian synagogue dedicated to the celebration of Conservative Judaism and Jewish Life in Middle Georgia. CSI is a 100+ year-old community which has strengthened over the years because of our dynamic programs and worship services and because of the warm and dedicated families who call CSI home.  We are so glad that you are visiting our website and hope that you will come see us in Macon. After all, Congregation Sha'arey Israel is how you say Hamish in Southern!
Out of an abundance of caution, for the foreseeable future, Congregation Sha'arey Israel will hold davening services via Zoom.
Here are the links you'll need to join and attend services with us:
Thursday Morning 7:00 am – https://zoom.us/j/746811686
Friday Evening 6:15 pm – https://zoom.us/j/207664310
Saturday Morning 9:30 am – https://zoom.us/j/830044674
*These links will be the same for the next several weeks and beyond.*
If you would like to participate in davening but do not have a computer or smart phone, you may call this number once services have begun 1-646-558-8656 and enter one of the following meeting ID#s
Thursday Morning – 746 811 686
Friday Night – 207 664 310
Saturday Morning – 830 044 674
For more information, please see here.