Daybreak Butterfly Garden Breaks Ground and Installs the First 18 (Chai) Plants
Daybreak Butterfly Garden Pioneers broke ground and installed the first 18 (Chai/Life) plants, Sunday afternoon, May 22nd, 2016. The effort this team put forth is just the first stage of a three stage plan to build this butterfly garden at Daybreak over the summer of 2016. If anyone else is interested in donating any of their time and or funds to help please contact David and Laura Ilan for more information. Stage two of the garden will begin in mid-June, and will incorporate an actual design of a butterfly as a focal point using painted cinder blocks and repurposed old pick-up truck tires with herbs and flowering perennials planted inside. Kol hakavod to the crew below for their vision, incredible teamwork, good cheer and hard work on such a warm late spring day. Daybreak staff and participants are very grateful for their contributions. Please stop by and visit Daybreak, in downtown Macon on Walnut Street between MLK Blvd. and Central City Park, to see the beautiful garden they worked so hard to create and the butterflies it will soon attract. Feel free to bring a Daybreak donation along, such as a canister of coffee or a large container of quick oats, as well.
Sha'arey Israel Congregants standing left to right: Eileen Crabtree (age three and so humble she won't face the camera), Chrissy Crabtree, Brian Crabtree, Will Finkekstein (Georgia Tech Junior), David Ilan (CSI Social Action Chair & Daybreak Advisory Board member representing CSI) Zohar Rubinstein (Georgia Tech Sophomore), and Isaac Crabtree (Macon United Synagogue Youth Chapter co-president).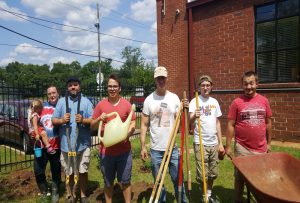 This is a widget area - you can put some widgets here by going to Appearance --> Widgets.